Doran and Jean Myers Endowment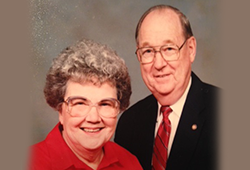 The marriage of Doran and Jean Powell Myers in 1944 in Enid, OK began a lifelong commitment to spread the gospel and serve the Lord – as a team. Through their 64 years of ministry together, they served eight Oklahoma congregations (as well as Associate Regional Staff Member), three Kansas congregations, and one Nebraska congregation. Aside from the usual congregational involvement, they were willing and eager servants on any committee and for anything on the district and regional levels.
In 2007, Jean passed away and two years later Doran passed away. Immediately following his death, the four Myers children began discussions about initiating an endowment with the Oklahoma Disciples Foundation in honor and memory of their parents.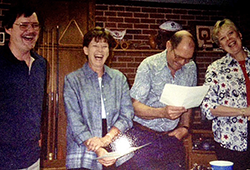 In January of 2010, the Doran and Jean Myers Endowment was established by their children, Stephen Doran Myers, Kathryn Myers Johnson, Thomas Charles Myers and Ruth Myers Moore to honor their parents' lifelong ministry. Distributions from the endowment were directed to support the programs and staff of the Christian Church (Disciples of Christ) in Oklahoma and in turn support, educate, inspire and challenge the churches in the Oklahoma region to be faithful in their various ministries where they reside and serve.
"Our parents spent their lives looking for ways to support all ministries of our region, be it through time and talent, or money," said Ruth Moore. "This endowment serves as a reminder of our parents' passion and work to make difference in the community. It brings us great joy and satisfaction knowing their dream will live on for years to come."
"We, as a family, are grateful for the vision and ministry of the Oklahoma Disciples Foundation." – Ruth Myers Moore, Kathryn Myers Johnson, Tom Myers, and Steve Myers